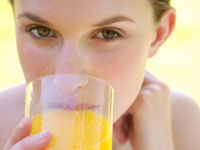 Getty Images
I wouldnt mind looking like Gwyneth Paltrow. Who wouldnt? So when she started promoting her weight-loss success using something called the Clean cleanse, I threw caution—and solid foods—to the wind.
Id never done a cleansing diet, which basically requires you to consume mostly liquids for several days or even weeks. Frankly, I have a hard time sticking to any diet at all.
But I was feeling sluggish and bloated from too many happy hours and an abundance of Mexican meals and take-out falafels. Even my normally clear skin was sallow and scattered with pimples. Help!
Thats when I saw Paltrows rave, in her newsletter,
Goop
, about Alejandro Jungers Clean program
. I knew I had to give it a try. Who wouldnt want to feel "pure, happy, and much lighter?" Sign me up!
So I pressured my up-for-anything roommate, Erin, into joining my quest for purity and light. Then I started reading up on Dr. Jungers cleanse, which is actually pretty easy to follow (for a cleanse). The basic rules are:
1. Liquids only for breakfast and dinner—and allow 12 hours in between dinner and breakfast for optimal digestion.
2. Solids are allowed for lunch.
3. No soy, dairy, gluten, caffeine, or alcohol.
(Check out this comprehensive list of rules for the
Junger Clean program
.)
Seems simple, right? Well, the list of forbidden foods is daunting—my first gripe with the cleanse. I was technically allowed to enjoy a savory duck dish, but Im a vegetarian—so that was out. Strictly following the cleanse meant I was not only a vegetarian, but I was also a gluten- and soy-free vegan to boot. Yikes.
Junger recommends you follow the cleanse for up to 21 days. I lasted a measly five.
The headaches were killer
I woke up my first morning feeling confident—and maybe a little cocky. This isnt so hard, I thought, as Erin and I sipped blueberry-spinach-and-almond-butter smoothies. They were pretty tasty too. Things were still looking up at lunch, when I noshed on a spinach salad with lentils, roasted veggies, walnuts, and balsamic vinegar, which Id prepared the night before. A caffeine headache hit at 4:30 and I was aching for a snack, but it was nothing I couldnt handle.
That night Erin and I sipped freshly made juice—a tasty combo of carrots, kale, beets, and ginger—alongside a cup of pureed butternut squash soup. We were both in bed by 10:30—the earliest Id hit my pillow in months. I felt healthy, content, and well on my way to Hollywood beauty.
The feeling didnt last long. Midweek I felt run-down, hungry, and really, really crabby. I kept to myself at work to avoid snapping at innocent coworkers. I fielded pleading emails from Erin, who was asking for natural headache relief.
Junger recommends that you take a nap when a headache strikes. I found that a bit tricky to work into the office routine.
Fortunately, I had Erin for support. If I had had to endure a roommate eating solids for dinner, I probably would have shoved a hot dog down my vegetarian throat.
The problem with doing a cleanse with someone, though, is that it makes it tough to cheat.
I tried. I really did. I successfully consumed a liquid-only dinner when I went out with an old friend. I steered clear of my favorite coffee shop all week. Then I fell—for a measly half cup of lentils.