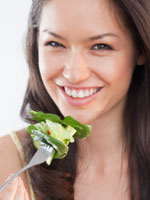 Getty Images
People who spend a full year on a strict low-carbohydrate diet can lose weight, but they might be happier—and lose just as many pounds—if they focus on reducing fat intake instead of carbohydrates, new research suggests.
Weight-loss strategies like Atkins and South Beach promote sharply cutting carb intake so that your body burns fat for energy. These diets are known as ketogenic plans because, in the absence of carbohydrates, the liver breaks down fat into fatty acids and substances known as ketone bodies.
Short-term studies have found that low-carb diets can have positive and negative effects on mental function and mood, but little is known about how the diet affects mood in the long run. Grant D. Brinkworth, PhD, of the Commonwealth Scientific and Industrial Research Association in Adelaide, Australia, and colleagues randomly assigned 106 obese and overweight people to either a low-fat or low-carbohydrate diet.
Eight weeks after starting the calorie-restricted diets (1,433 to 1,672 calories daily), the dieters felt happier than they did before the diet, whether they cut out carbs or reduced their fat intake. Psychological mood and well-being were measured with tests, and 24% of those on the low-carb diet were taking antidepressants when the study started, as were 12% of those on the low-fat diet.
Brinkworth and his team followed up with participants a year later. Those who stuck with their diet—65 people in all—had lost an average of about 30 pounds, according to a report in the
Archives of Internal Medicine
.
However, mood improvements persisted only in the low-fat diet group. The low-carb dieters saw their moods worsen over time, but in most cases they were still better off than they were before starting the diet.