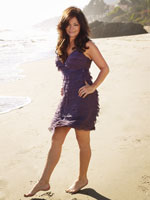 Robert Ascroft
Youd expect a TV icon to live in a fabulous home in Malibu, California. You may not expect her to greet you in the driveway wearing jeans, a T-shirt, and bare feet. But Valerie Bertinelli is not your typical TV icon.
Since the 49-year-old actress first appeared on
One Day at a Time
beside co-star "sister" Mackenzie Phillips, shes been through the gamut of Hollywood headlines: After a more-than-20-year marriage to rocker Eddie Van Halen (they had one son, Wolfgang), she went through a public divorce.
In 2007 after reaching 172 pounds, Valerie became a spokeswoman for Jenny Craig and lost 50 pounds; she now stays around 128 pounds.
Shes since written two books: 2008s
Losing It
was a number-one
New York Times
best-seller, and the follow-up,
Finding It
, just debuted in October.
Valerie—who looks as amazing in person as she does in pictures—lives with her boyfriend of five years, investment-fund manager Tom Vitale, her son "Wolfie," 18, and Toms 19-year-old son, Tony. Sitting on her patio overlooking the Pacific, Valerie fields all your questions—about her weight, divorce, and happy, new life.