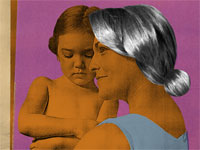 Amy Ruiz
Last year, a 70-year-old Indian woman named Omkari Panwar made medical history as the oldest woman to give birth. She and her husband conceived via in vitro fertilization, and Omkari delivered boy-girl twins via C-section. The couple had two daughters and five grandchildren, but they had always wanted a son.
As radical as that story seems, the idea of having kids later in life is not. Medical advances—including in vitro fertilization, using donor eggs and/or sperm to conceive, and enlisting carriers—have all but erased the notion of a biological clock. In fact, between 1997 and 2007, the birth rate among American women ages 45 to 49 shot up 50%, according to the Centers for Disease Control and Prevention (CDC).
The CDC doesnt even have comparable data for moms over 50, because this trend is so new. Along with news reports of older moms from coast to coast (Frieda Birnbaum of New Jersey had twins at 60, and Janise Wulf of California had a baby at 62), theres a growing number of support groups such as
PregnancyAfter50.com
,
MotherhoodLater.com
, and the Yahoo! group babiesafter50.
But there is a flip side to this phenomenon. In the June issue of
Health
, we reported on the
health dangers of later-in-life pregnancy
. Now, in part two of our series, we investigate the challenges these older moms face—from the
stigma of being the oldest mom
on the playground to unexpected, even life-threatening,
health issues
. Read on for three womens honest stories.