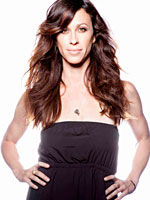 Stuart Pettican
Grammy-winning singer and actress Alanis Morissette struggled with eating disorders in her teens and 20s. But then she discovered how good it felt to treat her body right—and this fall she ran a marathon to prove it. Here, Morissette, 35, opens up about her long, winding road to becoming healthy.
Crossing the finish line of my first major road race, the Bizz Johnson Marathon in Susanville, California, was incredibly empowering. It really drove home that my body is an instrument, not an ornament, and that food really can be delicious fuel. I was running to raise awareness for the
National Eating Disorders Association (NEDA)
, a cause that couldnt be closer to my heart.
As a teen, I was both
anorexic
and
bulimic
. I was a young woman in the public eye, on the receiving end of a lot of attention, and I was trying to protect myself from men who were using their power in ways I was too young to know how to handle.
Disappointment, sadness, and pain hit me hard, and I tried to numb those feelings through my relationship with food. For four to six months at a time, I would barely eat. I lived on a diet of Melba toast, carrots, and black coffee.
I began recovering at 18, when a sweet friend confronted me. A very wise and experienced therapist really helped, too. And as I started getting into womens issues, suddenly I didnt feel alone in these quandaries about food and my body. Still, eating issues dogged me through my 20s. I wasnt as focused on the number on the scale, but I was a workaholic, pulling 24 hour days, so I ate breads and salty processed foods. Despite my career success, I wasnt my healthiest me. Yet.