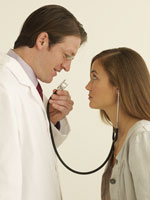 Ericka McConnell
The doc-patient relationship can be weird. Your doctor sees you at your most vulnerable (two words: paper gown) and is privy to your most intimate info (the number of sexual partners you've had, the precise location of that suspicious mole).
But while you're an open book, your doc isn't—and that's a big mistake. You're left wondering what he's thinking when he raises an eyebrow or murmurs a cryptic "hmmm." Well, wonder no more. We asked top docs to spill the beans on how you can get the best possible care.
Don't think you've got every ailment out there
"A patient will say to me, 'I saw that pill for toenail fungus—I want that pill.' And I'll say, 'But you don't have toenail fungus.' Then they say, 'My toenails look just like the toenails in the picture!' Medicine is not like buying a new shirt because the new color is Concord purple and you want to have a purple shirt, too. I tell people, 'Be glad you don't have toenail fungus!'"
—Zoe Diana Draelos, MD, president of Dermatology Consulting Services in High Point, North Carolina
Just spill it
"Every doctor has those 'By the way, doc' patients. They're the ones who, when I'm getting ready to leave the room, say something like, 'By the way, doc, I've been having burning when I'm urinating.' It's an important issue, but they wait until I'm on my way out to mention it. Tell me something like that right away."
—Raul J. Seballos, MD, vice chairman of preventive medicine at the Cleveland Clinic
Forget what you saw on TV
"I hear a lot of, 'I want this test. I saw it on TV. ' You should get the test you need, but it may not be what you saw on television. Just because a TV personality and her best friend had CT scans of the heart doesn't mean you need one."
—Nieca Goldberg, MD, medical director of the Women's Heart Center at the New York University Langone Medical Center and author of Dr. Nieca Goldberg's Complete Guide to Women's Health
Don't worry about your hairy legs
"I don't care if you haven't shaved, OK? Please do not apologize for the state of your toenails, your legs, or anything else. I am so not looking."
—Katharine O'Connell White, MD, MPH, OB-GYN at Baystate Medical Center in Springfield, Massachusetts