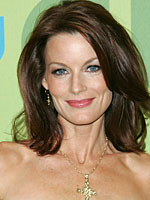 Getty Images
My favorite holiday ritual:
On Christmas morning, we always make breakfast and everyone eats before we open any presents. I makemuffins and homemade applesauce, which I don't think anyone likes
as much as I do ... I just love the way it makes the house smell!
When I need an energy boost, nothing beats …
an apple with peanut butter. Has to be natural peanut butter, though ... I just can't do that peanut butter with all the extra sugar.
When I hit an exercise rut, I …
call a friend to meet me for a walk. It always helps to make exercising a social opportunity!
The thing that surprises me about myself:
I'm not as good at multitasking as I think I used to be, and I'm starting to sound like such an oldlady ("Turn that music down," "Ow, my back")!
My favorite natural beauty trick:
Drink lots of water!
And sleep ....wish I had time to get more of that, but at least drink water. Oh, and sunscreen—is that natural?
The secret to a happy marriage is …
separate bathrooms—and closets.
My best advice for juggling work and family is …
separate bathrooms—andclosets!
My happy-life mantra:
Make time for friends and family. Giggle, eat good food.
Doug and I would never …
use Cool Whip instead of real whipped cream.