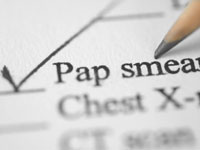 Istockphoto
Teens girls can skip Pap tests, according to
new guidelines
that say women should start cervical cancer screening at age 21. But some experts are concerned that rates of
sexually transmitted diseases
or unplanned pregnancies could increase without the Pap test to prompt a doctors visit.
As it stands, as many as 1 in 4 U.S. teenage girls has had an STD at some point in her life, often soon after she becomes sexually active, according to research published this week in
Pediatrics
.
"I am concerned that without the recommendation for young women to get Pap smears early on, they will lose important opportunities to seek advice and to learn about their health—particularly their sexual health—at a time in their lives when they need it most," says Kimberly Spector, an adolescent health educator in Los Angeles. "Regardless of the tests performed during a gynecologist visit, the conversation regarding sexual health risks and preventative measures can be very informative and empowering for young patients."
In the past, women were told to start Pap tests, which can detect abnormal cells in the cervix, three years after becoming sexually active or at age 21—whichever came first. However, these abnormal cells often go away on their own, particularly in young women. If they dont, such cells grow so slowly that catching them at age 21 is still early enough to remove them before they become cancerous. And catching them sooner could lead to unnecessary tests and treatments that sometimes damage the cervix, increasing the risk for a premature birth later in life.
The new guidelines still recommend that girls who are under 21 see a gynecologist; they just dont need Pap tests, according to the American College of Obstetricians and Gynecologists.