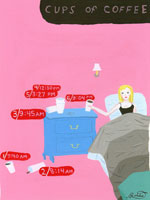 Juliette Borda
Dr. Raj answers your questions about caffeine, spider veins, and germs on public toilets.
Q: I drink four or five cups of coffee every day, then a cappuccino at night. Is that too much caffeine?A:
Yes and no. For most people, 200 to 300 milligrams of caffeine a day—about two or three cups of coffee—is fine. But more than that may cause anxiety, sleep difficulties, or irritability, as well as stomach ulcers, esophagitis (inflammation of the esophageal lining), a temporary rise in blood pressure, and reflux—all signature signs of an overdose.
Pregnant women should definitely try to avoid caffeine. If youre otherwise healthy and not having any problems, your caffeine intake is probably OK. Watch out for warning signs, though, and see a doc if you have restlessness or headaches or feel like your heart is beating too fast.
Q:
How can I get rid of the spider veins on my legs? And am I doomed to get varicose veins, too?
A:
Those blue and red squiggly veins that look like spider webs are smaller and closer to the surface of your skin than varicose veins. And, no, youre not doomed to get the varicose kind (created by a backup of blood in veins that are deeper and bigger) because you have them. The spiders pop up when blood in the tiny veins that carry blood upward to your heart seeps into surrounding tissue.