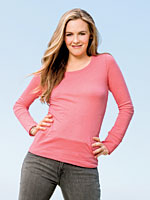 Jack Guy
Her
Clueless
character, Cher, would be way proud. Fourteen years after Alicia Silverstone, 32, made the world fall in love with a soup-can-collecting Beverly Hills teen, the actress is now taking on a weightier task: Educating women about healthy eating.
Over a vegan lunch in Los Angeles, Alicia gave us a sneak peek at her first book,
The Kind Diet
, which is part healthy-eating treatise, part diet plan, and chock-full of recipes. She also shared the many ways that down-to-earth living makes her glow.
Q: Your book, The Kind Diet, comes out next month. What excites you most about it?
A:
Im excited about presenting something that can make you feel amazing and look your best. Once youre informed, then you can be really gentle and kind to yourself, by giving yourself all the gifts life has to offer—like mental clarity and vitality—all while making the planet better.
Q: Do you think youd write another book?
A:
Yeah, but I want to wait until I have kids and then write a book for children. I have a lot to say about kids, but I dont think anyone wants to hear that when you dont have them! [Laughs.] So I want to have kids and go through, ideally, a whole natural-birth experience.
Q: Have you seen Ricki Lakes documentary, The Business of Being Born?
A:
Yes! Isnt it beautiful? I think Ive had baby fever since I was 2. I know I want to be a mom, and I know my husband [musician Christopher Jarecki] will be a great dad. But then theres the reality part, where I also have all these other things I feel so passionately about, so were not at all trying. [Laughs.] I think I might be ready maybe next year.