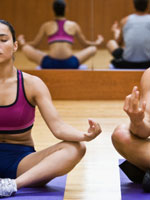 Getty Images
A hot, cramped studio, the potential for bodily slipups, and a whole lot of sweat: Sounds like a date from hell. But, in fact, yoga dates are on the rise—and for good reason! They are intimate, sensual, and cheap, and great for your body and soul, to boot.
As yoga becomes more mainstream, yoga dates help break up the monotony of the standard dinner-and-a-movie night. "You can learn quite a bit about somebody more quickly than in a restaurant where theres less interaction with others and its the run-of-the-mill date," says
Jennifer Macaluso-Gilmore
, who coaches women on dating and relationships.
Getting your blood flowing in a PG setting can certainly be beneficial with a new partner. "When you move your body you feel good, when your blood starts flowing and you start breathing," says Jennifer Fink Oppenheimer, a New York–based yoga teacher. "Any sort of exercise makes you feel good, but yoga specifically opens you up."
But while a vigorous Vinyasa class can be New Age–style foreplay on a budget, there are five cautionary factors to consider before unraveling your yoga mat next to your dates and joining each other in Downward Dog.
Picking Mr. Yoga Right
Even if your new partner isnt a budding yogi, you can still enjoy a Zen date. But just how soon you share in Savasana—and how you even propose the idea—can be tricky. Sometimes its better to hold off on yoga on your first date, but that doesnt mean you have to wait for things to get super-serious before you hit the mat. "You want to bring out the best in yourself, especially in the beginning when youre getting to know somebody," says Macaluso-Gilmore. "If you go to yoga classes regularly and are comfortable in that environment, then its fine right off the bat. But if it creates any anxiety or insecurity, then it may be the kind of date that you save for when youre more committed to one another."
Be prepared to do a little coaxing; a yoga class may seem like the perfect date to you, but he might need a little convincing. If you have more yoga experience than your date, be sure to explain what he should expect from the class beforehand to put him at ease. After all, attending your first yoga class can be nerve-racking enough, and even more so in a date setting, says Fink Oppenheimer.
Setting the tone with the right venue
As on any date, the venue establishes the tone. You might spend time on Citysearch looking for the perfect restaurant or wine bar, and, similarly, youll want to give some thought to where youll take your yoga class.
If your guy is new to yoga, take him to a class at a gym where he feels more comfortable, says
Kristin McGee
, a New York City–based yoga and Pilates instructor and Health Expert Network pro. If you want to take class at a yoga studio, opt for one that is not overtly spiritual. Pre-class Sanskrit chanting could make your date uncomfortable if he isnt used to it. Check out the class offerings at your local gym—many offer evening sessions perfect for a less experienced pair—our peruse
yogafinder.com
or
yogamates.com
to locate a nearby studio.