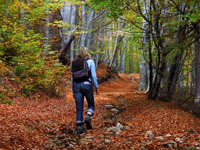 Istockphoto
You know the trail was right there. But it's gone now, and what started as a relaxing day hike now looks like a potentially serious situation. Do you know what to do? Les Stroud of
Survivorman
, the Discovery Channel hit show, helps us prepare for the worst.
Q: What's the first piece of advice you would give someone in this situation?
A:
I always tell women that they need to have their own pack with their own supplies. When I'm doing trainings and a couple is there, I'll pull the woman away from the man and ask, "Can you get to whatever he's carrying right now?" Too often women rely on the men to carry items they could both need.
Q: So what does she need in that pack she's carrying?
A:
Something that could provide shelter like a garbage bag, matches, a multitool—and make sure it has a knife with a sawblade on it—a small tin pot for collecting or boiling water, a compass, a watch, rope or cord, and a LUNA bar or something else to eat. And depending on how much you weight you want to carry, a lightweight jacket can be a great thing to have.
Q: Besides having those supplies, what else should she do before heading out on her hike?
A:
The best thing you can do is talk with locals if it's not an area that she's familiar with. From that, she can ascertain the potential dangers. In some areas storms can come on really quickly or the temperature can drop drastically at night. Wildlife or terrain can be an issue, too. Just make sure you know what the dangers are before you leave.
Also, always, always notify at least three people about where you're going and when you should be back and set up an emergency plan if you haven't made it by then. Tell them, "If I don't call by this time, worry and find out where I am."