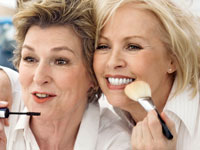 Todays skin moisturizers are worlds better than the one you started using in your 20s. Heres how to find your perfect product for gorgeous grown-up skin.
In Your 30s
Whats Going On
Luckily, your skin is in good shape, so you dont have to waste a second worrying about deep wrinkles. However, you might notice fine lines and age spots, says Anne Chapas, MD, a 35-year-old dermatologist in New York City. Also, "women in their 30s may have redness from sun damage or flushed skin caused by rosacea," a skin condition that often appears for the first time in your 30s, she notes. Another occasional issue? Under-eye circles. (Blame genetics or the stress and sleepless nights this decade often brings.)
What You Can Do...Your morning routine
After cleansing, hydrate and protect your skin with a lightweight lotion that has sunscreen. If you have any unwanted rosiness, look for one that also contains feverfew. "Its a natural ingredient that reduces redness," Dr. Chapas says. On mornings when dark under-eye circles are a problem, apply a cream that has caffeine, which helps shrink capillaries so discoloration is less noticeable.
Your evening routine
Now is the time to start using a night cream that treats fine lines and your first age spots. Look for one with ingredients like arginine, an amino acid that helps fade spots, and retinol, which "helps build collagen and reduce fine lines," according to Dr. Chapas. If you still get occasional breakouts, Dr. Chapas says a prescription-strength retinoid like Retin-A is a good idea because it treats pimples and signs of aging.
Your best Moisturizers