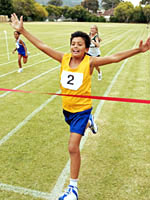 Getty Images
I was in my 20s before I discovered running, so Im always amazed to see young children keeping up (or passing me by) when Im out for a jog. When I was a kid, no one ran as a sport itself; rather, we played basketball, softball, or soccer. Running laps is what you did—reluctantly—to be better conditioned for the games.
But in the last decade, theres been a boom in children running races that were once strictly for adults. Kids as young as 5 and 6 are running with school groups, and tweens and teens are entering 5- and 10-kilometer races—and even mini-triathlons—with their parents, running clubs, and even on their own.
Active.com
, an online source for races around the country, lists more than 230 running events for kids and more than 30 for families in the month of September alone.
Getting kids outside and active is obviously a good thing. We live in a society where childhood obesity is at an all-time high and studies suggest too much television time may contribute to
behavior problems
, poor grades, and even
depression
later in life.
But are the physical and mental demands of long-distance running safe for children? At what age is competition appropriate, and what do parents need to keep in mind?
Increase kids distance with age

Mark Halstead, MD, a pediatric sports medicine specialist at Washington University, in St. Louis, has been a distance runner for most of his adult life. His wife is also an avid runner, so its no surprise that their 6-year-old son is already out pounding the pavement as well.
In fact, Dr. Halsteads son completed a marathon earlier this year—although it took him nine months to do so. This marathon was broken down into half-mile intervals run over the course of nine months. It was part of a school program called Read, Right, and Run, which encourages kids to also read 26 books and perform 26 good deeds during their "marathon."
Dr. Halstead fully supports these types of organized events, assuming that parents take common-sense precautions and monitor their child's well-being as they train.
"The distances set up for these races are generally very appropriate for kids; theyre distances they would typically spend running around in the yard with friends," he says.
Usually children are ready to start running longer distances—
5 kilometer (5K) races
, for example—between ages 8 and 10, says Dr. Halstead. However, a childs individual rate of development and desire to run matters more than his or her actual age.