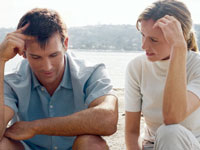 Dating someone new means learning about each other's quirky behaviors, emotional baggage, and the past experiences that have shaped both of your lives. But what if this involves a health or medical secret you're hesitant to talk about?
Jill*, a 33-year-old from New York City, knows that finding Mr. Right also means telling him that she has bipolar disorder. Though she takes medication to manage her condition, she still lives with residual
symptoms
: She has trouble sleeping for more than two hours at a time, and can't shake her cigarette habit—traits that she feels a date might question.
"Its the smoking and lack of sleeping; its hard to share your life with someone when you need to explain further why you do these things," she says.
Jill* knows that shell eventually have to confess her situation to a long-term partner. "Its something that will affect me if and when I settle down and have children, since I would not be able to take these medicines [while pregnant]," she explains. "Its never an easy thing to come clean with."
Not every relationship hides a secret like this one, but plenty of people face similar decisions about how much they should tell a new companion. Some confidential information can't stay that way forever—if you take daily medication or if you have a condition with
visible symptoms
, for example. Other events in your medical history, such as addictions, mental illness, past surgeries, and health scares, can easily remain a secret—but should they?
If you're considering telling your partner about a health secret, here are eight tips to help you spill the beans.
1. Practice what to say
Before you drop a bomb on a potential mate, rehearse your speech with a trusted friend or visit a therapist to talk it through, suggests Ken Robbins, MD, a clinical professor of psychiatry at the University of Wisconsin–Madison.
"Its good to have somebody as a sounding board in a situation like this," he says. "How you handle this is not something your partner is likely to forget."
Laurie Davis, an online dating expert based in New York and Boston, suggests asking a friend what sounds most intimidating about your condition and getting his or her advice on how to smooth it over. Getting a second opinion can help you decide how much to say (and when and where to say it), and running through your script a few times can make you more comfortable sharing your story.
"You dont want to overwhelm your partner but you want to be sure to give him or her all of the important facts," Davis says. "You should definitely practice before you tell your match, or youll most likely fumble through the conversation uncomfortably."
Mark Snyder, a 32-year-old writer from New York City, used to dread telling a new boyfriend that he was a recovering
alcoholic
. "I dont think I was ever able to shake off the feeling I was springing the information on him, usually when we were either out to dinner and he wanted to order a bottle of wine, or at a party where alcohol was introduced," he says. "I often blurted out, 'Oh, I dont drink. Sorry."
That changed, however, as he got used to talking about his condition. "As time went on, and I got more comfortable with this side of my life, so did the ease with which I told a man not to expect a tequila-scented smooch at the end of the night," he says. "I realize my blurting-it-out style was my own insecurities about sobriety. I celebrate it now."
* Some names have been changed for privacy.