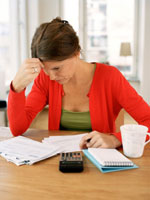 Getty Images
From routine physicals to prescription drugs, medical expenses add up faster than you can say "Ahhh." In fact, more than half of women surveyed by the nonprofit research foundation the Commonwealth Fund said the
rising costs of health care
were keeping them from getting the procedures and medications they need.
Receiving quality care costs quite the pretty penny, whether youre insured or not. And while doctors may know whats best for your health, they may not be as concerned with your wallet. So before you swipe that credit card, make sure youre following these money-saving rules to cut back on medical expenses.
1. Choose lifestyle changes over new medication.
Dont feel like adding to costs by filling a new prescription? Before your doctor signs the script, ask if there are any
lifestyle changes
that might have the same effect.
For example, losing weight can sometimes make diabetes or cholesterol drugs unnecessary, relaxation techniques often work better than
sleeping pills
, and keeping your home free of dust and mold might just liberate you from
allergy meds
.
2. Reevaluate your vitamins.
Taking a
daily multivitamin
may not be worth it in the long run—if your diet covers all the recommended daily nutritional bases. (This requires a diverse mix of fruit and veggies, lean meats, legumes, and whole grains, so if youre a picky eater, a vegetarian, or have a food allergy, you may need a daily pill.)
Dont bother with extra supplements, such as calcium, vitamin C, or vitamin D, unless your doctor recommends them for a specific reason. And you can ditch the
vitamin-infused waters
and beverages: Theyre usually high in calories and chemicals, and can do more harm than good.
3. Ask your doctor: Do I really need that test?
A 2006 study in the
American Journal of Preventive Medicine
found that 43% of patients underwent unnecessary tests at simple, routine checkups. If your doctor orders an MRI, CT scan, or other medical exam, speak up: Besides the medical concerns of unnecessary testing, like
additional exposure to harmful radiation
, you could be billed for these extra procedures. Ask why its being ordered, whether it will cost you extra money, and what will be done afterward if the results are positive (or negative). If the answer is simply "
routine screening
," the test may be unnecessary.
4. Get your regular meds on the cheap.
Continuously shelling out for a regular prescription (we're lookin at you,
birth control
) can be a real drag. Find out if there are cheaper options, like ordering from legitimate, safe
online vendors
, or thriftier pharmacies with low-price plans. You can also try
money-saving strategies
such as buying the generic version of the medication, buying pills in bulk, and splitting higher-dose pills.