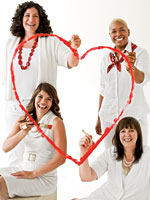 Frank Heckers
Youre under 50. youre pretty fit. You cant have a heart attack, right? Truth is, starting at the age of 35,
heart disease
is the leading killer of women. About 35,000 women younger than 50 die of heart attacks annually—but only 20 percent of women believe theyre at risk for heart disease.
"We really need to bust the myth that this is just a disease of men and older women," says Nieca Goldberg, MD, medical director of the New York University Womens Heart Program. Sixty-four percent of women die suddenly with their first heart attack without any warning signs at all, and 90 percent of those women had at least one
risk factor
that could have been addressed.
"Thats why its critical to figure out your risks and do prevention early on," Dr. Goldberg says. And thats what the women were featuring here did. Using a variety of strategies, they tackled a range of risk factors, including scary
family histories
,
high blood pressure
, and obesity. We asked Dr. Goldberg to assess how well they did—and to help us all learn how to lower our own risks.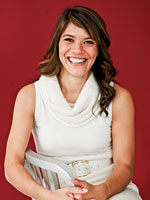 Frank Heckers
Loraine Morgan, 34Risk factor:
Family history
When Loraine Morgans dad was told he had
high cholesterol
, he took a pill and ignored it. Ditto with high blood pressure, and again with
diabetes
. "He took medications, but didnt make any major life changes," says Morgan, 34, a mother of two with another baby on the way. But then, when her father was 63, one of his toes turned black, a complication of diabetes, and his whole foot had to be amputated. "That was a turning point for everyone," she says. "The doctor said that 90 percent of his
coronary arteries were clogged
."
The next day Morgan started running, made an appointment to get a physical, and looked in the mirror. She was 15 pounds overweight and decided to ditch those extra pounds. She also did some digging on her family history. Her father went on to have five amputations and died at 68. Her mom has high blood pressure and high cholesterol. Her maternal grandmother has had a
stroke
. Her paternal grandfather died of a heart attack. And most of her aunts and uncles have some risks for heart disease or diabetes. She realized that dealing with illness would be her destiny if she didnt make changes.
Morgan now runs about 40 minutes a day, five days a week, and lifts weights twice a week. "I was the first of my three sisters to change my lifestyle, and they all followed suit," she says. She no longer eats the nightly steak-and-potatoes diet her parents followed. Instead, her
meals are well-balanced and varied
, with plenty of fiber, a lot of lean protein (she eats fish at least twice a week), and vegetables. She also eats every two hours to keep her metabolism up and blood sugar stable. "Every food decision I make now is because it has the best nutrients for my body," Morgan says.
Dr. Goldbergs take:
"Morgans family has serious risks for diabetes and high cholesterol, so she was at risk, too. But with the lifestyle shes now leading, shes going to prevent it. Her numbers—BMI, 20; waist, 23 inches; LDL, 96; HDL, 78—are all very good. Id give her an A+ for heart health. Her running is a very big part of her program, and studies show that people at risk for type 2 diabetes who exercise regularly are able to fight it off. Shes also created a balanced diet, one she can live with. Now that shes pregnant, Morgan needs to get good nutrients for the baby without returning to the higher-fat foods of her youth."