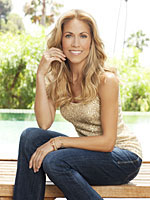 Jack Guy
Sheryl Crow is one of musics biggest talents, but youd never know it talking to her. The mom of 2-year-old Wyatt is more likely to chat about motherhood than about being a rock star (even President Obama has her music on his iPod). Despite her fame, shes still the same down-to-earth girl from Missouri.
Not that Sheryl, 47, is afraid of the spotlight—shes been an advocate for a ton of causes, including finding a cure for breast cancer, which she was involved with even before her own cancer diagnosis in 2006. (Shes now cancer-free.)
And while shes always been a fitness fanatic and sensible eater, Sheryls now even more mindful of preserving her health. In 2007, she opted for a less stressful life and moved to a farm outside of Nashville, where she lives with Wyatt.
This month, Sheryl releases a deluxe two-disc edition of her debut album
Tuesday Night Music Club
, stuffed with goodies like a bonus DVD, rarities, and B-sides. At the end of a busy day, she took questions submitted by
Health
readers. ("Great question!" she kept exclaiming, so kudos to you!)
Q: Im a breast cancer survivor, and Im wondering, are you doing anything special with your diet to stay healthy and cancer-free?
—
Sherry Lebed Davis, Lynnwood, Wash.
Sheryl:
When I first got diagnosed, I went to this great nutritionist who specializes in disease prevention and well-being, and I still incorporate her tips like eating omega-3s—I eat salmon or other fish at least three times a week.
I eat a lot of walnuts, almonds, colorful vegetables, and prunes, which get such a bad rap but are loaded with antioxidants. I also drink pomegranate juice and keep a vat of tomato soup around or some kind of tomato sauce, because it has lycopene. Also, spices like cinnamon, which I throw into my cereal.
And one big thing I learned was that so much of wellness depends on your body getting rid of waste. So I eat a lot of Fiber One, which has 14 grams of fiber per serving.