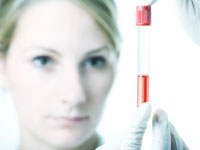 Istockphoto
Ashley Price felt terrible. She was tired, dizzy spells came and went, dark splotches popped up on her chest for no reason, and shed gained 50 pounds in two years. Some days she was starving; other days she could barely eat. Her doc suggested that her problems would go away if Price just ate less and exercised more, even though she was dieting and working out regularly. Price demanded thyroid tests, only to have them come back normal.
Her doctor told her: "I have no idea what it is. Wait for it to go away." It didnt go away. "I could no longer think straight, no matter how hard I tried or what I did," Price says. Worse, she suffered three straight miscarriages.
Finally, four years after this nightmare began—after the third miscarriage—an ultrasound revealed that her ovaries were riddled with cysts. She had polycystic ovary syndrome (PCOS), a hormonal disorder; symptoms include irregular periods, infertility, brain fog, and obesity. Prices gynecologist prescribed metformin, and she finally got some relief. "I had myself back," she remembers. "I had energy, I could think, I wasnt starving all the time." Best of all, she finally had a baby, born last June.
Ashley Price isnt alone. Experts say more women than we know walk out of doctors offices feeling that their symptoms havent been taken seriously. They are told that their complaints are all in their heads or that everything will be fine if they would just stop worrying.
The truth: Women who know somethings wrong but cant get the help they need often have an autoimmune disorder, which occurs when the immune system attacks itself. One in five Americans has one, and three-quarters of them (about 22 million) are women. Some women live with unbearable symptoms for 10 or 15 years before finally getting the right diagnosis and treatment.
"More than 40% of women eventually diagnosed with a serious autoimmune disease have basically been told by a doctor that theyre just too concerned with their health or theyre a hypochondriac," says Virginia Ladd, founder and executive director of the American Autoimmune Related Diseases Association (AARDA).
Whats the best way to avoid Prices fate and get help fast? Ladd and other health experts say you must educate and empower yourself by learning the names, risk factors, symptoms, and treatments for the seven most commonly misdiagnosed womens illnesses described here.
Then push your physician to take you seriously
.