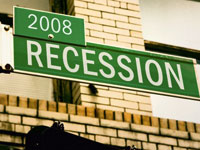 MONDAY, Sept. 28, 2009 (Health.com) — Are you finally ready for some good news about the recession? As it turns out, a shaky economy might actually be good for your health.
Although it seems hard to believe, a new analysis of the Great Depression—the mother of all economic bad times—suggests that mortality dropped and life expectancy increased during that period.
Researchers estimate that around that time, a year with a 5% drop in the gross domestic product (GDP) was associated with a 1.9-year gain in life expectancy, while a 5% rise in the GDP lowered life expectancy by about one to two months.
And it's not just the Great Depression, says Jose A. Tapia Granados, MD, of the Institute for Social Research at the University of Michigan, Ann Arbor.
Past research has shown similar results—at least a drop in mortality—in periods of U.S. economic recession during the 1980s and 1990s, as well as in recessions in other countries, Dr. Tapia says.
"In some sense it is good news," he explains. "The usual view of a period of recession is that everything is bad during these periods."
In a study published this week in
Proceedings of the National Academy of Sciences
, Dr. Tapia and his colleague Ana V. Diez Roux analyzed the economic growth and population health in the United States between 1920 and 1940, including the years of the Great Depression, which lasted from 1929 to 1933.
Life expectancy in general increased 8.8 years between 1920 and 1940, but gains fluctuated with the economy.