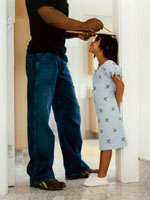 MONDAY, Sept. 28, 2009 (Health.com) — Parents can check out growth charts—a nifty graph that tells them where their child falls in relation to peers in terms of height and weight—just about everywhere, from a childs vaccination records to the doctors office.
But theres a problem: A new study suggests that most parents dont know how to read the charts and may think a childs weight is perfectly fine, when, in fact, the child is obese or overweight compared to peers.
More than 12.5 million children and adolescents are overweight, and these numbers are on the rise, according to the U.S. surgeon general. If most parents dont realize that their child is overweight, the new study, which appears in the October 4 issue of the journal
Pediatrics
, has implications in the war against childhood obesity.
In an Internet survey of 1,000 parents, 79% said they had seen a growth chart before, and the majority of these parents believed they understood the information. In fact, about one-third of parents said they used a growth chart at home.
However, only 64% of respondents could correctly determine a childs weight by looking at plotted points on a growth chart. Whats more, up to 77% incorrectly interpreted the data when looking at a combined height/weight measurement chart. Only 56% were able to correctly define
percentile
in a multiple-choice question. A percentile, which is shown as lines drawn in curved pattern on a growth chart, measures how a child compares to his or her peers in height and weight.
Specifically, 51% of parents did not understand that a child in the 10th percentile for height (meaning they are shorter than most of their peers) and 90th percentile for weight (meaning they weigh more than most of their peers) was overweight.
The survey was conducted by Elana Pearl Ben-Joseph, MD, a consulting medical editor at KidsHealth and the Nemours Center for Children's Health Media, and a pediatrician at the Alfred I. duPont Hospital for Children, in Wilmington, Del., and colleagues.