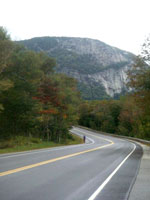 My idea of vacation typically involves a relaxing tropical locale, complete with an umbrella-adorned cocktail. But my most recent "vacation" was really a whirlwind weekend that involved running 20 miles in 24 hours; eating a sophisticated diet of peanut butter, bananas, and Powerbar gels; sleeping in a less-than-spacious 15-passenger van; and rising to a ripe body odor wake-up call.
No, I'm not crazy. I'm just a runner.
And last weekend I competed in the relay race through New Hampshire known as 
Reach the Beach
, a 200-plus-mile road race starting in the New Hampshire mountains, spreading out through the beautiful countryside, and eventually finishing at Hampton Beach. Approximately 300 teams of 12 arguably insane/masochistic runners compete, with each team dividing into two vans to complete 36 separate legs, or three per runner.
Team Big Booty Ho greeted me (the newest member) with open arms and a contagious can-do spirit. The team was a group of mid-20 and 30-year old professionals—a mix of former athletes, road runners, and even those who preferred not to run and trained only two months of the year for that particular race.
While there were times during my three legs that I wanted to stop, lie down in the middle of the road, and scream "mercy" with my last panting breaths, I came away from this "vacation" relaxed, rejuvenated, and wanting more. But even if you dont have the time or endurance to trek through New Hampshire, there are a few quick ways you can take a vacation from your dull workout routine and embrace a new challenge.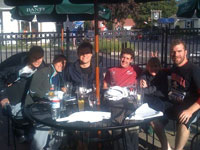 Never underestimate the value of a team.
I havent been part of a team since I played high school basketball, and I forgot how much easier it is to push your body to the limit when you know you have people counting on you. If I even thought about walking, Id have to answer to 11 teammates, screaming out the window of our van. On the flip side, my team would also schedule stops during my long runs to pull off on the side of the road, play music, cheer me on, and encourage me to chase a group of particularly obnoxious caped runners. I couldnt help but lift my legs and push through whatever pain I was feeling. When one of our teammates was injured and couldnt compete his last leg, there were a number of runners who didnt hesitate to volunteer to add an extra run, sacrificing heavy legs for the satisfaction of completing what we started.