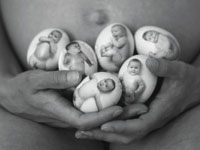 I miss the perky eggs of my youth. I walked around in my teens and 20s with all of these marvelous eggs primping in my ovaries, just waiting for their 15 seconds. But as I approached 30, I was too distracted by the process of creating a PR agency—my "baby"—to think about trying to have a real one.
At the very least, I should have
frozen a few of those suckers
. If anyone ever got the technology right, those eggs would've had a chance to be my kids. But as it is, I'm staring down 37 and asking my body to try to get pregnant again, au naturel.
I don't usually feel old, but when you spy the words "
advanced maternal age
" on your medical chart, it's as if the medical profession is secretly laughing at you. "Look at the old biddy and her beat-up eggs, trying to have a baby at
her
age." (Advanced maternal age, by the way, means that you're over 35, and your risks of birth defects or complications during pregnancy and labor are rising.)
Carousing through my 20s, it didn't occur to me to hurry up and have children. Sipping wine on transcontinental flights, I pored through the birth announcements for women over 40 in
People
magazine, naive to the fact that many of them employed multiple forms of
assisted reproductive technology
to get there.
Now I realize that the
Spears women
are the only celebrities getting pregnant unassisted these days. And unless there is some egg-duplicating substance in the Southern California water, some of these famous twins may have less to do with twins running in the family than with twins running in
IVF cycles
.
But no one tells you this when you're slaving through graduate school, planning to have children "someday." It comes as a total shock—once you locate your "someone" and reach "someday"—to learn that your eggs, as you approach 40, are getting older too.