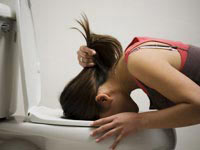 Last night was typical of my struggles with hyperemesis gravidarum, aka the morning sickness from hell. At 3 a.m., I dutifully trod into the kitchen to make the baby's bottle, but by the time we were settled into the rocking chair and she was happily drinking, I had to hurl.
I eyed the garbage can in the corner—could I toss my cookies in there with minimal interruption to my daughter's meal? Should I take her with me to the bathroom and try to hold her in a gentle, comforting manner while puking up my guts? Or should I just ditch her in the crib with a pacifier and make a break for it? I chose option C.
Celebrity Post-Baby Slim-Downs

Hollywood moms have plenty of incentive to get back into shape.
Read more
While 50% to 90% of women experience some nausea and vomiting during their pregnancies, a scant 1% to 2% have bouts so severe that they can't drink water without barfing. During my last pregnancy, I was diagnosed with hyperemesis gravidarum when I ended up in the hospital on an IV because I was severely dehydrated.
Judging by my increasing queasiness and sprints to the bathroom during this current pregnancy, I'm going down the same nauseating road again. For others in the same predicament, here are seven tips for minimizing morning sickness: