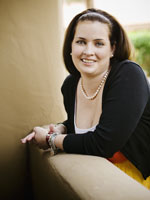 Mark Peterman
When actress Natasha Richardson died from an undiscovered brain injury after a skiing accident this year, I couldnt stop thinking how lucky I am to be alive.
Although my brain problem resulted from something I was born with and Richardsons was from blunt head trauma, our stories could have ended the same way. Instead, Im a healthy
brain-aneurysm
survivor—four words that are rarely uttered together.
Six years ago, at age 27, I was partying with friends at a bar in Hollywood when I fell down and wasnt able to get up. Thinking that Id had a few too many drinks, my friends carried me out and took me home.
No one knew that I had an aneurysm and that blood was already seeping around my brain—a condition that kills 40% of the 25,000 Americans who experience it every year.
An aneurysm occurs when an artery in the brain bulges way beyond its normal boundaries. If that bulge leaks or bursts, youre at high risk of suffering severe brain damage or even death. Out of pure luck, I escaped the worst. Heres my story.