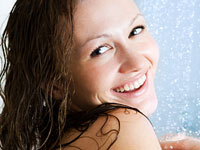 Ditching superhot showers, sleeping face-up, and other tiny tweaks that will transform your complexion.
Think you know what causes your skin to age? You may be surprised. "Wrinkles, under-eye bags, and redness arent always caused by sun damage or genetics," says Mary P. Lupo, MD, a dermatologist in New Orleans.
"I can look at a patients face and tell you a lot about her lifestyle—even the products she uses—based on the skin issues she has." Save yourself a trip to the dermatologist, and read on to find out how you can get a healthier, younger-looking complexion just by tweaking your routine.
1. Bad Habit
: Exfoliating with grainy, all-natural scrubs. Natural ingredients are usually healthier than their chemical counterparts.
But when it comes to those grainy facial scrubs, you may want to think twice. "Crushed shells, nuts, or seeds often have jagged edges that can cause microtears in the skin," Dr. Lupo says.
A better move:
Switch to a gentle scrub with beads that are perfectly smooth and round. "Theyre less likely to cause irritation," says David Bank, MD, a dermatologist in Mt. Kisco, New York. If you still have sensitivity, a paste of baking soda and warm water makes an effective exfoliator, Dr. Lupo advises.