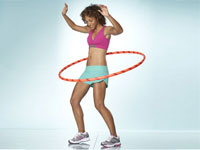 Chris ShipmanUp the challenge while you
tone your belly, butt and thighs
with these three advanced Hula-hoop moves from Christabel Zamor, author of the new book,
Hooping: A Revolutionary Fitness Program
.
Walk
As soon as youve stabilized the hoops orbit around your waist, its time to get those feet in motion! Keeping your shoulders down and back and your head up, try taking baby steps forward. After each step, pause to regain the steady, level pump of the hoop around your core.
Dont be discouraged if the hoop falls or is knocked to the ground at first—just pick it up and keep going. Before long, youll be
walking
and hooping at the same time. At first, anything you do with your feet will likely knock the hoop to the ground. Just pick it up and keep going. It wont take long before you can walk and hoop at the same time.
Once youre comfortable, try this sequence:


Stand with your feet parallel, pumping the hoop around your waist.


As you pump, shift all your weight to your right foot, using your left just to keep balance. Return to standing with your feet flat on the floor and your weight evenly distributed. Next, shift all your weight to your left foot.


Continue to pump as you step to the right with your right foot, and touch your left foot beside your right. Repeat on the left. Continue to step-touch side-to-side.