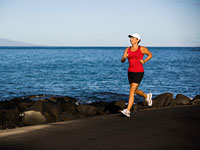 Intense
aerobic exercise
, like jogging, may suppress your appetite for up to three hours by reducing levels of
hunger hormones
produced in your tummy.
This useful finding comes from a British study that also credited weight training with hunger-busting power.
So the next time hunger pangs make it hard for you to stick with your diet, try boosting the
intensity of your workouts
, researchers say. You may find that your cravings fade.