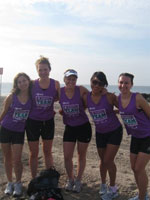 Last week, our coaches took the time to frighten us—er, prepare us—with stories of previous triathlons and their own race-day experiences: missing equipment, pre-swim freak-outs, all the ways we can accidentally break the rules, and so on. Now, with
our first triathlon
less than two days away, they explained, it's a little late to make sure we're ready
physically
. At this point, it's all about being ready mentally.
One way to do that is to have a race mantra, they told us—something we can repeat over and over to ourselves during the toughest part of the course, whether it's the swim, the bike, or the run (or heck, maybe all three!).
One of our coaches told us about a particularly nervous triathlete whom he coached through a panic attack, standing out on the barge in the middle of the Hudson River a few years ago. As she was seriously debating whether to jump into the water or just turn around and call it a day, he looked her in the eyes and said to her, "It's not about the swim."
After the race, Coach said, that girl found him and thanked him, saying the only way that she made it down the river and to the finish line was by repeating with every stroke,
It's not. About. The swim.
That same coach also told us how he found his own mantra. Much like myself, he'd never considered himself a strong runner (I'm personally terrified of this weekend's run much more than the swim or biking), and during his first triathlon he was really struggling for the first mile or so on foot, after dismounting from his bike.
He shuffled by someone in the crowd who looked at him and yelled, "Come on, you can do it, you're a runner!" Coach explained: "Well, after I picked myself off the ground from laughing—this guy obviously did not know me very well—I started repeating it to myself over and over again for the rest of the race:
I'm a runner. I'm a runner.
" And that phrase has stuck with him through every race he's done since.
That's why our coaches encourage all of us triathletes-in-training to have some type of mantra of our own: If we can keep our mouths moving and keep the rhythm going in our head, we can keep pushing our arms and legs forward as well. This is especially important in situations where safety and race rules prohibit the use of MP3 players.
(Here's a good reason why music players aren't allowed, by the way.)