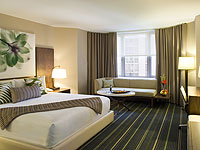 What is it about a vacation that invites good behavior to fly out the window? When you were a kid, you jumped on the beds. Now, a vacation may prompt you to raid the minibar, blow off workouts, or return home more exhausted than ever. Not at these addresses. The following standout hotel chains place your health and wellness at the center of their missions, offering everything from supercomfortable beds and top-notch fitness opportunities to great-tasting, nutritious food and relaxing interiors.

Whether hip, boutique-style lodgings or old-faithful chains, these picks serve up what you deserve: a truly rejuvenating stay thats worth your hard-earned money. And with all these inviting, back-sparing beds, you may have to refrain from jumping.
#1 Fairmont
From $139 per night and up (rates vary based on location and season)
Modern life stressing you out? Fairmont Hotels and Resorts has innovative programs to help you recover. You can take the hotels dog out for a walk to clear your head in some of its city properties, like the Fairmont Copley Plaza Boston. And for the crazed business traveler, Fairmont offers a massage to relieve BlackBerry Hands.
"Fairmont understands the needs of modern professionals," fitness expert Desi Bartlett says. She praised its approach to fitness, with on-site facilities as well as affiliations with top gyms such as the Lakeshore Athletic Club in Chicago. For a $10 fee, the chains Fairmont Fit program will deliver Adidas training gear—including athletic shoes, preloaded MP3 players, and running-route maps—to your room. For sweet dreams, Fairmont offers top-quality mattresses, and (at several sites) pillow "menus" with everything from anti-allergy to buckwheat options. And the chain also earned kudos from environmental expert Mary Cordaro for its less-toxic cleaning products and natural linens.
Room for improvement:
Our experts wished the gym quality was more consistent across properties.
Deal alert:
The FairmontSavers program gives you 30% off the best available rate when you pay in advance.