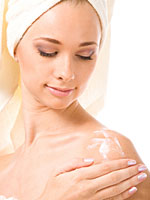 Sure, your face looks young, but what about your hands? Your neck? Your chest? Erase years with these smart strategies.
Wise to the suns evil ways, you diligently coat your face in sunscreen every day. Nice work. But as you slather on the
sunscreen
, you may notice that the skin on your hands doesnt look quite as ageless as your complexion. "Your hands, along with your neck and chest, are what I call give-away areas," says Kenneth Howe, MD, a dermatologist in Brooklyn, New York. "They can show your
real age
, even if you have a youthful-looking complexion." Thats because these three areas get almost as much damaging sun exposure as your face—but they get a lot less care. Remedy the situation with these strategies that will keep you looking gorgeous from head to toe for years to come.
Take time off your...hands
"Most women notice the first signs of aging on their hands in their early 30s, as the skin begins to thin and lose moisture and sunspots come to the surface," says Robin Ashinoff, MD, chief of dermatologic and Mohs surgery and
cosmetic dermatology
at Hackensack Medical Center in New Jersey. In your 40s or 50s, you may also notice a loss of fat, which makes tendons and veins more visible beneath skin. There are ways to remedy the problem, but the easiest fix is to prevent it from happening in the first place by applying a thick layer of moisturizing sunscreen (SPF 30 or higher) immediately after washing your hands.
Simple fixes: Improve the look of your skin by smoothing a retinol cream, like
RoC Retinol Correxion Deep Wrinkle Serum
, on the backs of your hands every night. Retinol "minimizes fine lines while stimulating cell renewal to even
skin tone
," Dr. Howe says. For darker spots, ask your doctor about pre­scription
Tri-Luma
, a blend of the bleaching agent hydroquinone and the retinoid tretinoin; a 30-gram tube costs $188 and lasts about six months (apply at bedtime for several months).
Intensive solutions: If you still see discoloration, head to your derm for a series of one to three treatments with an Nd:YAG or Q-Switched Ruby laser ($300 to $500), which can erase spots. Injecting hands with a hyaluronic-acid filler like Restylane will restore lost fullness; one to two syringes (costing about $850 per syringe) are usually needed to treat both hands, and results last about six months. If your skin is thoroughly dappled and has a crepey texture, fractional lasers can "sweep the area clean while stimulating a good deal of collagen production, making skin look healthier," Dr. Howe explains. Unfortunately, the treatments arent cheap—you may need up to five at a cost of $1,000 each.
Skin savers for your hands:
RoC Retinol Correxion Deep Wrinkle Serum
($21.99; drugstores)