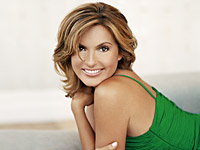 Mariska Hargitay is a sharer. When the warm and outgoing
Law & Order: Special Victims Unit
actress talks to
Health
, shes so eager to pass on
tips for a healthier, more balanced life
that she opens up her cabinets to recite whats inside, then later sends a
follow-up e-mail
(signed 'xo, Mariska).
This is someone whose advice you can trust: Hargitay makes it look easy as she deftly juggles 15-hour days on the set, marriage (to actor Peter Hermann), motherhood (to 2 1/2-year-old son, August), and her nonprofit organization, Joyful Heart Foundation, which helps empower survivors of sexual assault, domestic violence, and child abuse. Since its inception in 2004, more than 1,400 survivors have participated in their retreat and wellness programs; they plan to serve 2,200 this year.
Hargitay is the daughter of late actor and bodybuilder Mickey Hargitay and sex symbol Jayne Mansfield, who died when Mariska was 3 years old. Her first film was 1985s
Ghoulies
, but she only worked sporadically after that. ("I had an eight-year dry spell," she laughs.) She became a household name in 1999 when she landed a plum role as tough-but-tender Detective Olivia Benson on
Law & Order: SVU
, and in her decade on the show has collected both an Emmy and a Golden Globe.
Now 45, the lifelong athlete is still brimful of energy. She suffered a brief setback in January when she was hospitalized with a partially collapsed lung. Two months later, she was back in the hospital to address further complications. She spoke with us right after she was released, and was her usual vibrant self as she talked about what inspires her, how she balances her crazy-busy life, and why the days of doing her own stunts are behind her.
Before we begin, we just want to ask how youre feeling.
Im doing better and better every day. I feel stronger. And, most of all, Im so grateful, because, the truth is, it was a really scary thing. But this has been a great lesson for me to get back in touch with that inner voice that teaches us how to take care of ourselves.
We really do ignore that inner voice at our peril.
Our health is the most important thing, truly, that we have. If we dont have that, we dont have anything. This time has made me learn how to take care of myself, listen to my body, and know when I have to rest. Women are such amazing multitaskers; its a blessing and a curse. We want to do it all and, the fact is, we cant! So its been a lesson for me to stop. [Laughs] Im feeling better, and, hopefully, smart enough to get the lessons I need to learn and to appreciate how fragile and beautiful life is. And I want to get [back] to work as soon as possible! Thats happening very soon—I think Im only missing one episode. Its been a journey, a scary one, but, I guess, a necessary one. In the big picture, Im feeling really lucky.