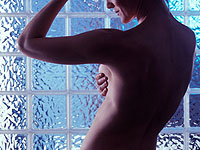 Istockphoto
The risk of cancer
One cant help thinking of Elizabeth Edwards, who gave birth to two children at ages 48 and 50 after undergoing fertility treatments—and who was diagnosed four years later, in 2004 at the age of 55, with stage II breast cancer. (In 2007, she revealed that her cancer had recurred and was now at stage IV.)
While she has never publicly discussed whether there could be a link between fertility treatments in older moms and subsequent breast cancer, breast cancer experts speculate that the two could be related.
"Its a very unsettled question," says Julia Smith, MD, PhD, director of the Lynne Cohen Breast Cancer Preventive Care Program at the New York University Cancer Institute. "Every time weve tampered with the natural cycle of reproductive hormones, weve had a problem, as evidenced by research showing a link between
hormone replacement therapy
and breast cancer. As women get older, theyre at
increased risk for breast cancer
, and Im concerned about giving peri- or postmenopausal women additional sex hormones that could disrupt the natural course of aging of the breast cell."
Research also shows that older women who have recently given birth are more likely to develop breast cancer in the 15 years following the birth than their peers of the same age who have never had children. One Swedish study followed women after theyd given birth and found that the childbearing women were slightly more likely to be diagnosed with cancer—and women who had their first child after the age of 35 had the highest risk, about 26% higher than women who had never given birth. (This is a transient risk: After 15 years, their odds dropped below that of women who had never given birth.)
"My worry is if an older woman is cooking a really early breast cancer and then is exposed to massive levels of estrogen during her pregnancy, could that accelerate tumor growth?" adds Mary Jane Minkin, MD, professor of obstetrics and gynecology at the Yale School of Medicine. "No ones ever studied it, and its a real possibility."
The other point of concern: "The minute a woman gets pregnant, we cant screen her for breast cancer. And we cant do a mammogram until shes finished breast-feeding, which could be almost two years later," Dr. Smith points out. "If shes younger than 40, its not a big issue because her overall risk of breast cancer is so low. But if shes 45 or 50, then Im worried."
Cancer experts are less concerned about the risks of other types of reproductive cancers among past-40 women undergoing fertility treatments. In fact, a Danish study published in February in the
British Medical Journal
followed more than 50,000 women who underwent fertility treatments for 15 years and found no increased risk of ovarian cancer among women who took most types of fertility drugs.
The one exception—women who took
clomiphene citrate (Clomid)
had an increased risk of a type of ovarian tumor called serous ovarian tumors, which may be more influenced by hormones than other tumors, says Louise Brinton, PhD, chief of the Hormonal and Reproductive Epidemiology Branch at the National Cancer Institute. Brintons own preliminary research has found a possible link between Clomid and
endometrial cancer
, a treatable cancer of the womb. "Many women in their 40s and 50s are using donor eggs, so they wont be taking Clomid, which is an ovulation-inducing drug," she points out. "But for those women who are, they need to be aware that there may be a link."
The problem is, many women arent briefed by their doctors on potential long-term risks. "I talk to fertility specialists all the time and bring up my concerns, and they tell me the same thing they tell their patients—they dont have any evidence that it is harmful," Dr. Smith adds. "But its not a question of not having evidence proving harm—we dont have any evidence proving safety."