Q: Youve said that being a working mom leaves you exhausted. How do you reenergize?A:
Exercise is the only thing that reinvigorates me. I make appointments with other people [to go hiking], and I meet them at the base of the hill—because Ill answer to that. I usually enjoy [exercise] after much more than I enjoy it during.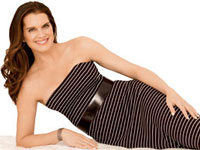 Q: Whats the most surprising thing about getting older?A:
The older I get, the younger I feel. Growing up, I was always the kid, but I spoke like an adult and was in adult roles. I didnt feel like a kid. The older I get, I actually feel younger! Which is good. I always thought when you get older, youll want to slow down, but I want to do even more.
Q: Do you have a favorite splurge?A:
A good hunk of
dark Belgian chocolate
. As Im getting older, Im enjoying my vices so much more because I feel like Ive deserved them.
Q: Whats your biggest health regret?A:
Not learning to love the way I looked earlier. And I think I would have had sex a lot earlier! [Laughs.] I think I would have lost my virginity earlier than I did at 22. I had the public and all this pressure, and I wish I had just gotten it over with in the beginning when it was sort of OK. I think I would have been much more in touch with myself. I think I wouldnt have had issues with weight—I carried this protective 20 pounds [in college]. It was all connected. And to me, thats a health regret.
(Read about making smarter sexual health choices and how birth control can affect your health.)Q: Are you ever afraid the depression you felt after having Rowan will rear its head again?A:
I mean, if I have a bad day, its not that the people around me dont go, "Uh, is she OK?" Thats the hardest part. I have to say, "Im fine, just leave me alone!"
Q: Do you ever worry?A:
I dont, because now Im armed with knowledge and experience, and I wont ever let myself think its OK to let [those feelings] continue. But who knows what menopause is going to be like for me?
Q: What happened the day Tom Cruise came over to apologize?A:
[Tom] called an hour ahead and said, "Can I?" And I was like, "Uhhh … am I being
Punkd
?" I called my husband, I called my publicist, I was like, "What do I do?" I did think, Do we use the front door? because we always use the kitchen door. Its one of those weird things where I was like, "We need to use the front door!" I had to lock the other door and pull the shade down. I was so relieved when my husband came home and started cooking. And when Katie brought the baby over, it just got defused and we looked at these two babies born on the same day in the same hospital. The irony is insane. But just to look at these babies, [I thought] Really? Lifes short. Lets just eat an omelet, and well all live our lives and be thankful we have these little people.
Q: Whats your absolute favorite relaxation ritual?A:
I love getting baths, and going to the Korean spas, and getting pummeled and scrubbed, and its so hot in the sauna you cant even stand it. I have to do things in a pretty extreme way to calm down. So a Swedish massage is not going to do it! I need to know that theyre in there with their thumbs and moving stuff around. Even in a bath; if its not boiling hot, and Im not thinking Im detoxing, Im like, what a waste of water! But, Ill put in Epsom salts and boil something out until I get light-headed, and then Ill be like, Ahhh!