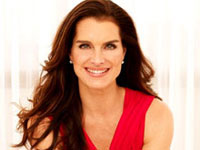 Andrew Eccles
It doesnt get more grounded than Brooke Shields. Five minutes into our interview, shes telling a story like a good friend you saw just yesterday. How is it possible that Brooke, 44, can be so down-to-earth when shes so darn famous?
Shes been in the public eye for three decades, as a model, movie star, TV actress, Broadway performer, and childrens-book author (her latest is
Its the Best Day Ever, Dad!
). And after chronicling her postpartum depression in
Down Came the Rain
, Brooke landed at the heart of an important womens-health issue.
Now eight years into her marriage with writer and producer Chris Henchy, the couple is raising two daughters, Rowan, 6, and Grier, 3. Read on to find out how she balances her crazy-busy life, and what else happened the day the worlds most famous movie star popped by to apologize.
Q: You devote a lot of time to charities, especially Tupperwares Chain of Confidence campaign. Why are you so passionate about that and the SMART Girls program that Tupperware sponsors?A:
What Tupperware has stood for all these years is the independence of women, allowing women to work from home, earn a living—and thats what this Boys & Girls Clubs of America program, the SMART Girls program, is about. You just get these young women who dont necessarily have a healthy family life, or theyre being raised by their grandmother, and this is a place they can go to and they can get power. Thats what you want for these little people when they go out as young women.
Q: Is it true you had a sun scare?A:
Yeah, this [Brooke touches a patch on her upper left lip] keeps coming back. Ive had it for a while, but a year ago my doctor froze it off and it turned out it was precancerous. I was panicked. I thought, Of course! Everythings started to be in place, and now I have to get that? When everything is going well, my Catholic guilt rears its ugly head and says, "No, youre not allowed to be that happy. Were gonna give you cancer now!"
Q: Is that why youre now working with Coppertones NutraShield campaign? A:
I was from the generation of sitting out with oil and tin foil over your schoolbook [to reflect more sun]. It wasnt until I had kids that I started being more concerned. We need to protect our skin and our kids skin, and we need to do it now. I put it on before [my makeup]. Its easier to use sunblock as a moisturizer and then call it a day. I incorporate it into my morning, and keep it in the daily tooth-care area so that it seems like a daily routine.
Q: Youve been married eight years. Whats the best marriage advice youve ever heard?A:
Someone wrote on a card at my shower, "Dont ever go to bed angry." Its one of the oldest ones in the book, but its so interesting what happens when you do. Its toxic. Your dreams are affected, and then in the morning, youve already been damaged. Well resolve at least to disagree. And then, I just find I sleep so much better.
Q: Whats most rewarding—and challenging—about raising two girls?A:
Their vulnerability is the best and worst thing. The baby will hold my face and say, "I just love you so much, Mommy." And its like, Oh, ohhh, I dont know if I can live up to this! And, yet, its the best. Theyll make you crazy, but theyll also make you so happy that youre crazy.