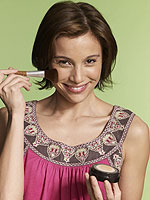 Chris Shipman
Now more than ever, beauty products are touting real health benefits—including treating under-eye inflammation and fighting wrinkles with natural ingredients. But which are really the healthiest?
In our 11th annual beauty awards, we partnered with top dermatologists to uncover the new products that deliver on their claims. From a toner that prevents breakouts to a sunscreen thats rich enough to sub as your face cream, here are the standouts that earned our Americas Healthiest seal.

Skin careToner:
Neutrogena Oil-Free Acne Stress Control Triple-Action Toner
($7) In the war against acne, every step in your skin-care regimen counts, which is why judge Lisa M. Donofrio, MD, was thrilled with this toner. "Were all prone to acne and this 2% salicylic acid formulation is the right dosage for the treatment and prevention of normal breakouts," she says. An added bonus: The solution is nonirritating, thanks to green tea and cucumber extracts.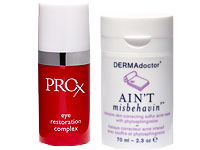 Brian Henn
Eye product:
Olay Professional Pro-X Eye Restoration Complex
($42) Who needs sleep when you have an eye cream this good? "Niacinamide, a form of vitamin B, suppresses pigmentation, so dark circles and blotchiness are reduced," says judge Grace H. Pak, MD. "Plus it has caffeine to decrease puffiness."
Antiaging facial moisturizer:
Skinceuticals A.G.E. Interrupter
($150) The fountain of youth might not be available in a jar (yet), but this superhydrating moisturizer comes pretty darn close. True, its not cheap, but it actually prevents collagen and elastin breakdown (the two big skin agers) deep in the skin with blueberry extract, while stimulating the production of new collagen, says judge Rosemarie Ingleton, MD. Translation: fewer wrinkles and less sagging.
Blemish treatment:
DERMAdoctor Aint Misbehavin Intensive Skin-Correcting Sulfur Acne Mask
($45) "Sulfur is one of the most effective ingredients in treating breakouts," Dr. Ingleton says. "This contains 10% sulfur, which is the highest Ive seen without a prescription."
Lip treatment:
Clarins HydraQuench Moisture Replenishing Lip Balm
($22) Most lip treatments stop working as soon as theyre rubbed off, which means you constantly have to reapply. But Dr. Donofrio was impressed by this balms ability to boost lips own healing capabilities. "The hydrating ceramides in the formula help repair the skins barrier, so lips retain moisture better," she explains.