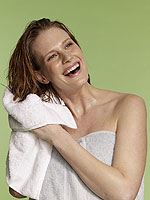 Chris Shipman
You want the very best stuff, with the most health benefits, at the very best prices—so do we! That's why we had a team of top health experts test the latest home products to bring you the absolute healthiest best buys. From a tough all-natural cleaner to kitchen tools that help you cut the fat, these products make it easier to live healthy.
Kitchen gadgetsSmall appliances:
Fagor 3-in-1 Electric Multi-Cooker
($120) Three cheers for this multitasker that's a rice cooker, slow cooker, and pressure cooker in one. "Anytime I can maximize a gadget to save money and counter space, I'm in heaven," judge Jill Davie says. She loves it for cooking whole grains like millet, faro, and brown rice, or to plump up dried beans.

Hamilton Beach Big Mouth Deluxe Food Processor
($70) This food processor stood out for its generous feed tube, which fits whole veggies. "Other processors require precutting, but this one saves you that step," Davie notes. "You can whip up big batches of fresh salsa, sauces, or soups fast."
Cookware:
Cuisinart GreenGourmet 12-inch skillet
($70) A nonstick skillet is a must-have for low-fat cooking, Davie says. This skillet is free of potentially harmful PTFE (aka Teflon) and PFOA chemical compounds. "Its ceramic-based coating seems to be just as good, so you can still cook with less oil without burning your food," she says.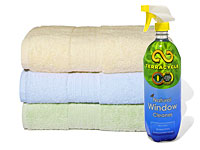 Brian Henn
Towels
Hotel Collection Organic Towels
($10 to $50) Wonderfully plush, these organic-cotton towels aced the "feel test" and got even softer after washing, judge Sarah Barnard says. And they're made with all-natural vegetable dyes. "I love that they're truly chemical-free," she notes.
Cleaning productsBathroom cleaner:
Ecover Bathroom Cleaner
($5.50) Ecover, a plant-and-mineral-based formula, got top marks from judge Renee Loux for erasing stubborn sink and shower scum without a lot of elbow grease. She just sprayed, let it penetrate, and wiped—with spotless results. "Waiting a couple of minutes allows the natural surfactants and enzymes to go to work and break down scum," Loux says.
Related links:
Glass cleaner:
Terracycle Natural Window Cleaner
($3) Terracycle's biodegradable, nontoxic formula cut through grimy residue on mirrors and windows to leave them squeaky clean. "I'd known of this company only for its garden products, so I was pleased at how well it worked. It didn't leave streaks behind," Loux says. She also appreciated the recycled packaging.
All-purpose cleaner:
Caldrea All-Purpose Cleanser in Sea Salt Neroli
($12) Put to the test on countertops, bamboo and tile floors, and a dirty door jamb, Caldrea's plant-derived formula was hardworking yet gentle enough for painted surfaces. It's concentrated, so just 1/4 cup mixed with 1 gallon of water goes a long way. Loux loved the lemon verbena, neroli, and cardamom scent, too. "It's like aromatherapy while you're cleaning," she says.
MattressesEco-friendly Mattress
Savvy Rest Tranquility
(Queen mattress, from $1,749) Savvy Rest earned top marks for being completely chemical free. The company uses no glues, fire retardants, or synthetic fabrics to make its natural latex mattresses. It also won bonus points for having a removable quilted organic wool and cotton cover that wicks away moisture, reducing dust mites. Plus, "Tranquility is made up of two layers of latex which allows you to customize the firmness of the mattress," explains judge Sarah Barnard. You can even order a "split" mattress and tailor each side to your liking.
Traditional Mattress
Sealy Posturepedic Innerspring Preferred Model
: (Queen mattress, $499) This newest update to the company's long-running mattress has three zones of pressure-relieving memory foam in areas that correspond to your shoulders, hips, and knees. "The mattress was developed with input from some of the country's top orthopedic surgeons, which lets you know that they've really researched this from a biological perspective," says Barnard. These dream zones help reduce the ache-related tossing and turning.