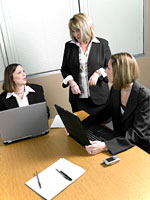 Istockphoto
University of Toronto researchers report that women with female bosses are more stressed out than women whose bosses are male. And theyre more likely to have
insomnia
,
headaches
,
depression
, and
heartburn.
Is there a juicy explanation?
Nobody knows yet. But study co-author Scott Schieman, PhD, a sociologist, thinks the answer may have less to do with the interpersonal relationships between women and female bosses and more to do with where many women work—in "caring" jobs (nursing, teaching, education) that are often underfunded, underappreciated, and overscheduled.
Last Updated: January 04, 2009
Get the latest health, fitness, anti-aging, and nutrition news, plus special offers, insights and updates from Health.com!