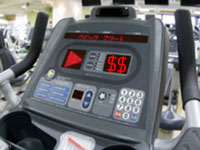 Two of the most popular New Year's resolutions are to get in shape and save money. It's unfortunate, then, that these two goals often seem to contradict each other. After all, it costs money to join a gym, to eat healthy, and to buy fitness gear, and these so-called luxuries are often the first to go when pennies get pinched.
But taking care of yourself will only save you money in the long run, so it's important to find ways to stay active and healthy even when you may not be able to afford top-notch training or first-class fitness clubs. Here are nine easy ways to get started without breaking your budget.
1. Join now
If you do have enough money in your budget to pay for a gym membership, act now to take advantage of New Year's savings. Many fitness clubs slash their membership rates in January to draw in people who make weight-loss resolutions; for example, the
Los Angeles Times
reported this week that the upscale SportsClub/LA recently invited past members to restart their membership at a savings of almost $1,000. Other chains offering reduced rates for the new year include Bally Total Fitness, Curves, and Gold's Gym. Paying a whole year's dues up front, instead of month per month, may also save you money—but only if you're sure not to give up or cancel your membership.
2. Renegotiate your rate
If you've lost your job and relied on a cheaper corporate gym rate, talk to your membership coordinators and see if it's possible to keep the same rate, rather than paying full price; fitness clubs are also hurting from the economic crisis and may be more willing to give you a discount rather than lose you as a customer. You may also find that you're eligible for discounts at a gym by being active in other community organizations, such as food co-ops or volunteer groups, or through your insurance plan. If you're hurting for cash, ask about limited membership options for less expensive rates, which may limit the hours or areas of the gym you can use. One Gold's Gym in Green Brook, N.J., for example, is offering a free 8 a.m. to 3 p.m., Monday through Friday membership for the month of January to people who have recently been laid off,
BusinessWire
recently reported.
3. Bike to work
If you're close enough to ride a bicycle to your job instead of driving or taking public transportation, you may save in more ways than one. Spending less on gas or train and bus fare is an advantage, of course, but some employers are actually starting to reward bike riders with monetary reimbursements as well. In 2007, Google began giving free bikes and helmets to its employees, and since then several other companies have begun to follow suit, providing various forms of compensation for those who pedal to work. And we may soon see more widespread rewards: Last year's Energy Improvement and Extension Act, which went into effect on January 1, 2009, makes it legal for cycling commuters to apply for a $20 per month reimbursement. Visit
BikeLeague.org's FAQ page
for more information.