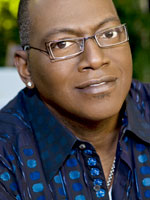 When
television's most popular show
,
American Idol
, kicks off its eighth season Tuesday, the buzz may be about
new judge Kara DioGuardi
. But hard-rocking bass guitarist and music industry legend Randy Jackson, who has judged alongside Simon Cowell and Paula Abdul since the show's first season, is trying to raise buzz about something completely different: how to successfully manage
type 2 diabetes
.
Jackson, who was diagnosed with the disease six years ago, has been working on behalf of the
American Heart Association's Heart of Diabetes Campaign
to raise awareness about the disease and to show others how they can manage it.
Forget what works for your neighbor
The differences between Jackson's first season on
American Idol
and this year are night and day. In 2002, Jackson weighed more than 300 pounds. He never worked out, he partied hard, and he still ate foods rich in fat and sugar that were part of his Louisiana upbringing.
Now, the 210-pound Jackson, who's worked on more than 1,000 gold or platinum albums, is more likely to nosh on a Gala apple than apple pie and never misses a day on his treadmill.
"It was hard to get a handle on managing my diabetes," Jackson tells Health.com. "It took me about a year and a half to get it down to a science. I also dropped a ton of weight."
Jackson got an assist on weight loss with
gastric bypass surgery
, but his success managing his disease was all homegrown. He checks his blood sugar three times a day, eats healthy, and gets plenty of exercise.
His secret? "Find out what's going to really work for you. Forget about what works for your neighbor. Find out what works for you and if it will fit into your lifestyle. That's the thing you'll probably do the longest."