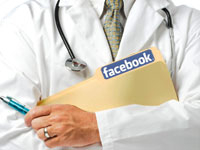 In the spirit of those annoying, addictive, you-know-youre- reading-them-even-though-you- wish-you-werent
Facebook notes
popping up everywhere, Health.com presents its list of 25 random things you might not know about the human body, nutrition and exercise, sex, sickness, and health. Go ahead:
Pass it on
to your friends.
1.
Rinsing your nose with salt water
can help keep you healthy and ward off allergy symptoms.
2.Dogs can smell
cancer and low blood sugar
.
3.People who enter their home through a door near the kitchen
tend to eat 15% more
than those who use the front door.
4.Youre more likely to have a heart attack
on a Monday
…or up to three days after youve been
diagnosed with the flu or a respiratory tract infection
.
5.You cant get a tan from your computer screen. No matter what
this website
tells you.
6.Obese people spend
$485 more on clothing, $828 on extra plane seats, and $36 more on gas
each year than their thinner counterparts.
7.Smokers are four times as likely to report
feeling unrested after a nights sleep
than nonsmokers, and are 70% more likely to
develop hearing loss
.
8.Eating fruits and vegetables may help the human body
make its own aspirin
.