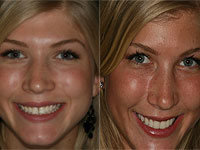 You probably don't think of going to a dentist when you long for a fresher (read: younger) look—but maybe you should. "Teeth support the lower third of the face," says Michael Apa, DDS, a New York City–based cosmetic dentist and an instructor at the New York University College of Dentistry.
"If they're set too far back, your lips fall inward and look thin. If they're worn down, cheekbones hollow out and wrinkles look more obvious." You can correct aging-teeth issues—stains, chips, crowding, ground-down enamel—and rejuvenate your look in a couple of visits.
Telltale ager: Crowding or gapping
(
Above left photo
)
Smile saver:
Porcelain veneers—wafer-thin shells that are affixed to the front of your teeth—can realign your teeth, rebuild lost height, and conceal chips, cracks, and stains, Dr. Apa explains. (
Above right photo
)
Commitment:
A dentist can make over your smile with veneers in two three-hour appointments. During the first visit, your teeth are reshaped—this sometimes requires drilling of your tooth's enamel. Your dentist will then make a mold of your teeth (which is sent out to a lab that will make your veneers) before applying temporary veneers. At the next visit, the dentist removes the temporary set and bonds the new veneers into place.
Cost:
You'll pay about $500 to $2,000 per tooth, depending on where you live. Gen­erally, insurance will pay for veneers only if they're being applied over broken teeth.