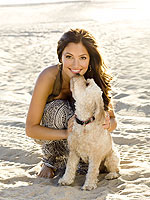 Jack Guy
In a few short years,
Friday Night Lights
star Minka Kelly has earned a rabid following for her portrayal of Lyla Garrity, the complicated girlfriend of a high school football star in a tiny Texas town. Its no surprise that Kelly has show business in her blood—her mother was a former Las Vegas showgirl, while dad was a guitarist for Aerosmith. (Steven Tyler, of all people, was an early babysitter.)
The 28-year-old former model—who is reportedly dating New York Yankee Derek Jeter—now splits her time between her native Los Angeles and Austin, Texas, where the show is taped. The actress strives to find happiness in everyday life, even as she attempts to cope with the recent death of her mother. Here, she shares the secrets to her positive outlook.
Q: What aspects of your health are you fanatical about?A:
Getting enough sleep and drinking lots of water are the most underrated, simple, and beneficial things you can do for your health. I also have to sleep a full eight hours. And I like to take my half-hour power naps in the middle of the day.
Q: Youve been described as "simultaneously curvy and toned." Do you try for that?A:
Well, if I didnt work out as hard as I do, Id be really thick. [Laughs.] Thats also hard, because I love to eat. But its about wanting to take care of myself, as opposed to wanting to look a certain way. I dont really ever stand on a scale.
It can be self-defeating to weigh yourself every day. Then you end up obsessing over it. And if youre working out and gaining muscle, your weight is not going to go down, but your fat could be decreasing.
Q: Whats your workout regimen?A:
I do a lot of running, which I enjoy for mental reasons, too. Ill be really frazzled and run for 30 minutes, and everything sort of seems clear again.
Q: Is there any form of exercise that just wasnt for you? A:
I did Bikram yoga for a while, and I know thats not for me. Too hot!
Q: Any secret-weapon foods?A:
I always have a bowl of Kashi Go Lean cereal with some cut-up strawberries
for breakfast. Its just the quickest, healthiest breakfast. And it fills me up.
Q: Whats your eating vice?A:
Im a dessert freak. I looove peach cobbler. Everything in moderation. Have a cheat day—Whoo! Sundays Cheat Day. Im gonna have my peach cobbler!—then its exciting, and you really enjoy it.