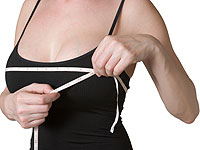 I was 14 years old when I went from flat-chested girl to voluptuous woman—almost overnight. Every girls dream, right? Not really. Having a D cup in your teens and a DD in your 20s is not so much fun.
Besides being uncomfortable naked and in a bathing suit, my neck and shoulders were killing me. And my belief that I looked OK in clothes was shot to pieces one day in my late 20s when I reviewed a taped segment of myself (I was an on-air TV reporter) and saw that I looked like I had two huge grapefruits under my sweater. I was horrified and never appeared on-screen again in anything but a business suit.
Life could have gone on like this—with me enduring the pain in my neck and rib cage, being tired of the sweat that accumulated at night between the two mounds of heavy skin while I tried to sleep, and strapping on several sports bras before every jog—if my mother hadnt met a woman whod had breast-reduction surgery. Id considered reduction mammoplasty, sure, but I really couldnt afford it. (The average cost is $6,000-plus, according to plastic surgery organizations.) But the woman my mother told me about had the surgery and loved it, and her insurance paid for it.
I had no idea my top-heaviness was a medical condition that might be covered. But I was about to find that out. Heres my journey and what you need to know.