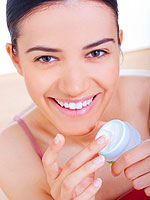 A little line here, a sag or bag there—your body may be giving away your age, or even making you look older than you really are.
(See some examples here.)
But here we've got the best ways to tackle these trouble spots, with at-home fixes or with the latest medical technology.
Pump up dull, thinning hair
At home:
Beginning from the scalp, gently pull a small hank of hair all the way to the tips of the hair. If more than six hairs come out, you have a thinning problem.
Dexter Phillip, owner of New York Citys DEX salon and stylist for celebrities such as Tyra Banks and Victoria Beckham, recommends
Esuchen Hair Care products
to add body and shine. Try
No. 5 Treatment Shampoo
and
No. 23 Acidifying Conditioner
(both $18), plus
No. 9 BoBo Capture Foam
($20). Another option: Rogaine, which is available over the counter, may regrow thinning hair.
At the docs:
Ask for blood tests to rule out lupus, thyroid disease, or anemia. Hair loss is often a sign that something else is wrong, so take it seriously.
Fill sparse brows and lashes
At home:
Jeannie Mai, makeup expert for TLCs 10 Years Younger, suggests this trick for covering thin spots: Use a small-angled brush (try
M.A.C #266
; $19) to fill in with soft strokes of pressed eye shadow (like
M.A.C Eye Shadow
; $14.50) in a shade that matches your hair color. False lashes are another option. "I put them on when Im having a tired day, and it makes a huge difference," says Amanda Sanders of New York Image Consultants. Her favorites:
Shu Uemera False Eyelashes S217
($16).
At the docs:
Ask your doctor about bimatoprost, an Rx currently used to treat glaucoma. Pending Food and Drug Administration approval, it may be prescribed to stimulate eyelash growth.