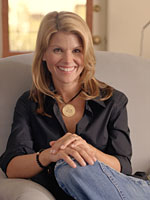 The 44-year-old star of
90210
and mother of daughters Isabella, 10, and Olivia, 9, shares her own personal strategies for staying fit (and looking amazing).
"If I don't exercise, I don't function as well. I respond energetically and emotionally to exercising, whether it's yoga, going for a hike, taking a treadmill class, or doing Pilates. But I like to mix it up so I don't get bored."
Make the most of Me Time.
"I tailor my workout times (and choices!) to whatever my kids are doing. There's a treadmill class right after I take the girls to school. And last summer, my kids were at camp down at the beach, so my girlfriend and I would both drop off our kids there and then do a five-mile walk through the Palisades."
Don't go it alone.
"When you're in a group class, you're not bored. My treadmill class is an hour, but it goes by very quickly. I'm not as motivated to do cardio at home. For me, the music, the people, and the atmosphere make me push myself harder."
She's got a secret weapon.
"My iPod. If I didn't use it, I wouldn't get on the treadmill! If I know I have a mix programmed for myself, I'm more inspired. I really love that Pink song, 'So What (I'm Still a Rock Star).' And I like Kanye West, Maroon 5, and old Led Zeppelin."