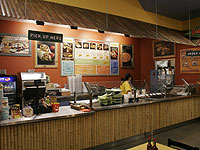 #10 Taco Del Mar
270 locations in 22 states
You may have noticed that Baja-style Mexican cuisine—think: fresh ingredients and fish instead of beef and chicken—is a growing trend. Whole grains are easy to get here, with whole-wheat tortillas available as an alternative in burritos. The chain gets high marks for its new 320-calorie chicken burrito, available at most locations. Our judges were also impressed that Taco Del Mar banned lard from its beans and bakes its fish and taco shells instead of frying them.
We love:
The 460- to 555-calorie Mondito-size burrito, which fills you up but keeps fat and sodium in check.
Danger zone:
The breakfasts. In particular, steer clear of the Mondo Breakfast Burritos, which are more than 1,000 calories.
View this article as a gallery.