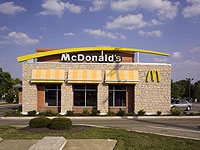 #8 McDonalds
14,000 locations nationwide
Among the big burger-based chains, McDonalds is leading the way in overhauling its menu to offer more heart- and waist-friendly fare. Take the Happy Meals, which you can order with a side of apple dippers (with low-fat caramel) instead of fries and low-fat milk or fruit juice instead of soda. (Now the trick is just getting your kid to go for them!) And if youve gotta have fries, McDonalds are made in a healthy canola-blend oil and come in at just 230 calories for a small.
The Grilled Chicken Classic sandwich and wraps are healthy choices, too (just skip the mayo or sauce). So is the salad with Paul Newman low-fat balsamic vinaigrette. Registered dietician Moore notes that an Egg McMuffin, at 300 calories, is a smart alternative to other "calorie-laden biscuit breakfasts." And our whole panel commends McDonalds for spelling out the nutritional information right on the back of its tray liners.
We love:
The chains 260- to 270-calorie Snack Wraps (choose grilled chicken) for protein without a lot of unwanted carbs.
Danger zone:
Although McDonalds made our list, this is still the land of supersizing and giant sodas. Its up to you to request a small.
#9 Einstein Bros. Bagels
649 locations nationwide
OK, we all know that bagels are pretty high-carb, but slathering cream cheese or butter on them is what really gets you into trouble. No worries at this chain: Einstein Bros. offers healthier alternatives like reduced-fat shmears, hummus, and peanut butter—a great way to add healthy fat to breakfast (or lunch). It also serves a Good Grains bagel that has an impressive 4 grams of fiber.
In the mood for a salad? You can order any in a half-size. For kids, our panel of judges gave a thumbs-up to the bagel dog (picture a Pig-in-a-Blanket with bagel-style bread as the "blanket") and a fruit salad upgrade.
We love:
The high-fiber Veg Out on a sesame seed bagel.
Danger zone:
"Overstuffed" size sandwiches are a calorie nightmare.