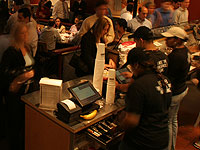 #6 Chipotle
800+ locations nationwide
Buffet-style Chipotle gives every customer complete control over her burrito, taco, or salad. (Take that, Taco Bell!) And you get to build it with fresh, local ingredients. In fact, Chipolte won high marks for its commitment to organics, hormone- and antibiotic-free meats, and produce sourced from local suppliers, which is revolutionary in a chain this big. Many of its entrees can be low-sodium, if you choose add-ins such as the fajita veggies and green tomatillo salsa.
We love:
Burrito Bowls, which let you skip the tortilla—and the extra carbs.
Danger zone:
The dark side of a buffet is that you can go wild. So you have to go light on cheese and sour cream.
#7 Atlanta Bread
106 locations in 24 states (Southeast, West, and North)
Someone at Atlanta Bread must be a Seinfeld fan: There are muffin tops (half the size of regular muffins) on its breakfast menu—the low-fat pumpkin muffin top has only 200 calories, compared with 320 to 640 calories for regular-size muffins. But this chains got more going for it than skinny muffins. This innovative bakery also features whole-grain bread, fresh sandwiches (including paninis), and hearty, healthy soups and salads. It earned high marks for great sides, too, including fire-roasted black bean and corn salad.

We love:
The entree salads like Salsa Fresca Salmon Salad: grilled wild Alaskan salmon filet on greens with fire-roasted black bean and corn salsa and a pineapple-mango vinaigrette.
Danger zone:
Pasta entrees at some locations are offered with bread … thats a whole lotta carbs!