America's Top 10 Healthiest Fast Food Restaurants
Health magazine rates the top 10 healthiest fast food restaurants in America based on their efforts to provide nutritious fare.
---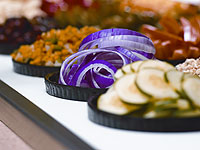 #2 Jasons Deli
206 locations in the West, Midwest, Mid-Atlantic, South
How did this up-and-comer snag second place? Largely because of its devotion to organic food: About one-fifth of all its ingredients are organic, from blue-corn tortilla chips and whole-wheat wraps to field greens and spinach. Plus, its creative salads—like the Nutty Mixed-Up Salad with organic field greens, grapes, chicken breast, feta cheese, walnuts, dried cranberries, pumpkinseeds, raisins, and organic apples—make you actually want to order the greens.
Our judges applauded the portion-control option:
Reduced sizes of, say, a stuffed baked potato, are $1 less. Jasons menu also highlights ultrahealthy sandwiches and provides the nutitional info.
We love:
Being able to build any sandwich on an organic whole-wheat wrap.
Danger zone:
High-sodium counts on some sandwiches; if sodium is a concern, stick to the ultrahealthy choices.
#3 Au Bon Pain
280 locations nationwide
A pioneer in healthy fast food, Au Bon Pain serves up sandwiches, soups, salads, and hot entrees made with whole grains, veggies, and hormone-free chicken.
New this year:
Portions, a 14-item menu of nutritious small plates—from appetizers like apples, blue cheese, and cranberries to salads like chickpea and tomato—all of which are less than 200 calories.
Another impressive feature:
Au Bon Pain provides on-site nutritional information via computer kiosks, so before you even order you know each options calories, fat, and sodium. "Its a great way to empower customers," praises judge Amy Jamieson-Petonic.
We love:
Yummy low-cal soups, from Jamaican Black Bean to Fire Roasted Exotic Grains and Vegetables.
Danger zone:
The sodium counts can get high if you dont pay attention.
Last Updated: February 19, 2009
Get the latest health, fitness, anti-aging, and nutrition news, plus special offers, insights and updates from Health.com!